WHEE!
Hi how are you, underlings?
We, (mi wife.. Lt. Col. Macchi..
tomoe_daeva & me) had a very busy week, recently. And it was called Havoc week! Yes you heard it right, the one and only Jean Havoc, cigarette eater, unlucky in love, sexy, tall.. yes that Jean Havoc.

Every day's title was decided after our works posted at y!G, it was really fun to spam the pchat whole week with our nonsense, and bickering, and laughter, ..and Havocs, obviously.
I hoped that there would be more attendants, but, I think I didn't crossposted encouraged people more with advertising.
Enough rantage, on to the themes;

1. Strip Havoc Naked
2. Spying on Havoc
3. Lunchtime
4. Spank Havoc
5. Havoc gets Lucky
6. Molest sleeping Havoc
7. Sexy Outfit Havoc



WARNING: SOME OF THESE CONTAINS NC-17 MATERIAL, DON'T EVEN TAKE A PEEK IF YOU ARE A MINOR.
WARNING NO2: Big images, Lootsaa big images.




1. Strip Havoc Naked


by
tomoe_daeva

..
boopkit was not aware that they were indeed in the Havoc day, so luckily for you, there is no fanart from her.





2. Spying on Havoc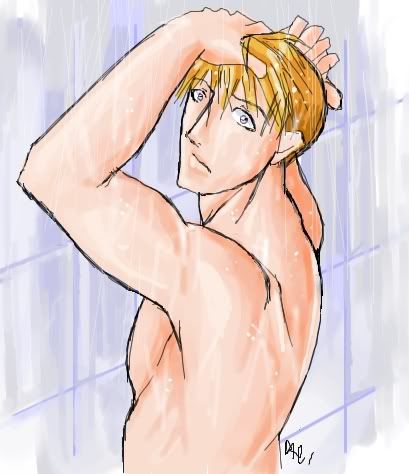 by
tomoe_daeva

xxx



by
boopkit
3. Lunchtime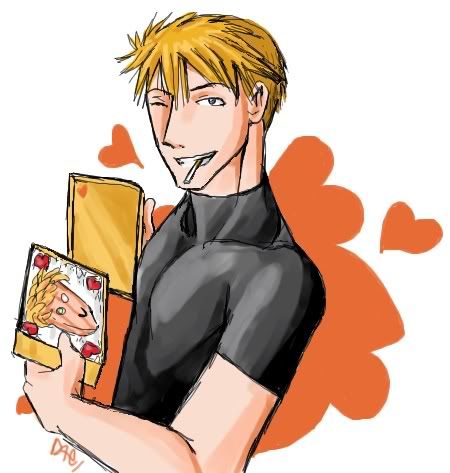 by
tomoe_daeva

xxx



by
boopkit
4. Spank Havoc

by
tomoe_daeva

xxx



by
boopkit
5. Havoc gets Lucky

by
tomoe_daeva

xxx



by
boopkit
6. Molest sleeping Havoc

by
tomoe_daeva

xxx



by
boopkit
7. Sexy Outfit Havoc

by
tomoe_daeva

...and
boopkit forgot the last day, because her "le inspirations" giver and do-your-promised-fanart-or-i-will-smack-your-head mooded wife
tomoe_daeva was not online that day. so she drew bees. and flowers...she was so lost D: *coughs* okay.



Someone on y!G suggested that we sould do a Roy week. Maybe, maybe, if my dear love of a wife quits accepting every challenge she gets (she is gonna be busy like hell, but heh, she is a fanart machine), I would totally work my cyber charm on her for the demonstration.

xposted to the necessary places. (omg, professional biznis talk)

Enjoy, ♥
stabs html and ljcuts